We all dream of waking up like Beyonce, but it's almost impossible to do that unless you're Beyonce. For most, "I woke up like this" means bed head, brows to pencil in, and non-existent eyelashes.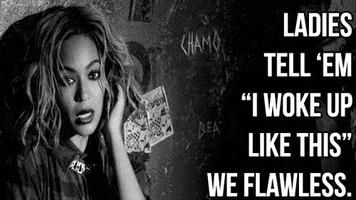 But what if you could wake up, roll out of bed, and be ready to go? Keep reading for ways to wake up feeling yourself, including getting LASIK! Hey, you may even have enough time to meditate and do yoga in the morning before work! #blessed
1. Say goodbye to penciled-in brows with microblading
You've probably already heard about microblading and how it's changing women's lives all over the world. What's not to love?
You finally get the lush, perfect brows that you've been craving without having to pencil them in or use Glossier's Boy Brow for that no effort look.
How frustrating is it that every morning, you wake up and look like your eyebrows have fled to Timbuktu? Microblading takes tiny needles that form a blade and then deposit pigment in the skin's dermal layer.
Microblading can last anywhere between 12 to 18 months. That means over a year of no longer having to worry about doing your brows every single morning!
Cost: The cost of microblading varies but can usually be anywhere between $400 and $800.
2. You can have beautiful eyelashes without needing mascara
Show of hands: how many people are happy with their natural eyelashes and don't curl their eyelashes or need mascara? You can't see the people raising them, but almost everyone reading this probably raised their hand or thought about it.
Who wakes up every morning with long, thick lashes? It's about as rare as that display shoe size 6! If you're tired of spending your money on mascara and wasting time curling your lashes, there is another solution. Actually, there are 2 solutions.
For those that wallow because their eyelashes are too thin, let's talk about eyelash extensions. Lash extensions are great because unlike the fake lashes you buy at CVS, they look natural.
The key when you're getting lash extensions is to go somewhere that's reputable. This is not the time to try out the cheap Groupon you saw for 85% off.
You only want someone with experience putting your new extensions on. Once attached, lash extensions last an average of six to eight weeks before they simply fall out like normal lashes.
Cost: Lash extensions can cost anywhere between $100 to $400 for your first set. Since they do fall out, expect to go back every few weeks for fill-ins. This may run you another $50 to $165, depending on how many new lashes you need.
Option number two is tinting your lashes. You can get your lashes tinted with or without extensions. Eyelash tinting uses semi-permanent dye on your lashes. What it won't do is add any volume, curl, or length to your eyelashes.
Lash tinting is great for those of us that were born with lighter, blonde eyelashes. If you already have darker eyelashes, lash tinting may not be right for you.
Cost: Lash tinting can cost you anywhere between $45 and $75 for your tinting session.
3. Get LASIK and say so long to glasses and contacts for good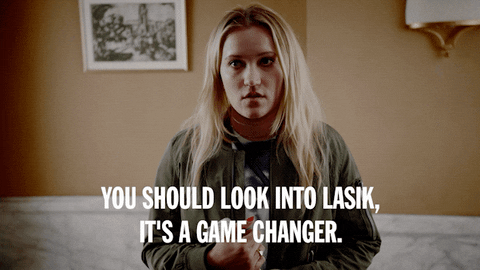 Okay, let's get real here. Let's imagine you spring for the above treatments but you still wear glasses or contact lenses. You may be saving some time, but now you're not using it effectively! Here's why:
One of the reasons why microblading, lash tinting, and lash extensions are so popular is because they are the perfect example of low maintenance beauty. It's a lot harder to achieve the "look" of low maintenance beauty if you're spending 10-20 minutes every day trying to put your contact lenses in.
It's also beyond frustrating to invest in these kinds of treatments and then put glasses on. It's like unearthing a beautiful painting and then putting it in a less than stellar frame.
In this case, your face is the frame. Putting glasses on after you tint your lashes and get lash extensions is practically a crime! That's why getting LASIK is the ideal solution for millennial women on the go.
Nobody has the time to deal with glasses and contacts anymore. Why not invest in yourself by getting LASIK and saying so long to glasses and contacts for good?
By cutting out glasses and contacts, you can easily free up another twenty minutes of your morning! With that kind of time, you might be able to eat breakfast every morning or spend more time cuddling with your dog.
Whatever it is, your time is important! Do you really want to be spending it in the bathroom trying to wrestle with your contacts?
Cost: LASIK can run you anywhere between $2,500 to $6,000 but it depends on where you go. Not everyone qualifies for the procedure, so make sure to schedule a LASIK consultation at Sugiki Portis Yim Eye Center in Honolulu to see if you do!
4. Blowouts save you time that was spent styling your hair
Want to avoid bedhead and have silky, glossy hair you can run your fingers through every morning? Getting blowouts makes this your new reality!
To put it simply, a blowout is the act of having your hair blow-dried and styled. But it's a little more than that because a good blowout will last you about three to seven days.
You'll look sleek and chic, and you won't have to worry about doing your hair afterward! To keep your blowout lasting longer, use dry shampoo at the roots to absorb any oils.
While sleeping, consider investing in silk pillowcases, which help eliminate frizz. This is crucial if you want your blowout to go strong past day 6!
Cost: A blowout can cost you anywhere between $40 to $95 depending on the salon that you go to.
5. Stop trying to touch up your manicure in the morning
Nobody knows how it happens, but you'll do your nails Sunday night and by Monday morning, they are already chipped! If this doesn't drive you insane, you might be a saint.
If it does drive you crazy, it's almost inevitable you've tried to touch up your manicure that morning. The problem with this is you almost always make it worse!
There are never enough minutes in the morning and you need your hands. Maybe you're pouring coffee or trying to walk your dog but one way or another, you're going to smudge your still drying nails.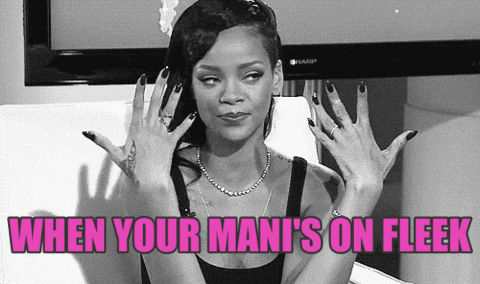 The best thing you can do is pamper yourself with gel manicures and pedicures. They may cost a little bit more, but these are guaranteed to last much longer than your average manicure.
You'll know it's time to go back for your next one when your nails start growing out. This will usually be after about two weeks.
Now, there are some things you should do if you want your gel manicure to last as long as it can. First things first, keep your nails strong.
When you aren't wearing nail polish, use a strengthening base and topcoat. Another thing to watch out for is don't skimp on drying time!
It may be tempting to try and leave and assuming your nails are dry, but they may still be wet. To be on the safe side, keep your nails under the UV light for a little longer than you're supposed to. If you under-cure the polish, it won't stay on as long as it should.
Cost: A gel manicure will be about $35 to $120. The cost can depend on what kind of look you want and how many colors you are using in your manicure.
If you want to literally roll out of bed every morning and claim "I woke up like this!" you need to follow these tips! And yes, getting LASIK should be the first one on your list.
Why go to all this trouble if you're still spending your time putting in contacts or wearing glasses? Schedule a LASIK consultation at Sugiki Portis Yim Eye Center in Honolulu, HI now! Your best self is out there, so what are you waiting for?