LASIK vision correction can change your life. By eliminating the need for glasses or contacts, it can give you complete visual freedom.
If you've struggled with uncomfortable contact lenses and cumbersome glasses for years, it's time to consider a change. And what better time to make that change than this spooky season?
Halloween is one of the highlights of the year, an opportunity for lovers of sweet treats and a little horror to live it up. But whether you're an eager parent or costume contest lover, there are always safety hazards when it comes to Halloween.
LASIK, however, can actually make you safer on Halloween and throughout the whole year. Keep reading to see how you can have a safer Halloween after you have LASIK.
Don't Let Glasses Block Your Vision
Anything blocking your vision while you're trick-or-treating with the kids, partying, or out on the town can end your evening early. In certain situations, eye-related injuries on Halloween can lead you straight to the hospital.
You may not know it, but emergency room visits ramp up on Halloween because people focus on fun over safety. Many standard costume accessories can end up blocking your vision, especially masks.
Some simple masks can be safe, but if you're combining them with glasses, it could be a recipe for disaster. Fitting anything over your glasses can inadvertently blind you, even wigs.
Tangles of hair dragging over your face can get caught in your frames. And anything you wear on your face can potentially knock off your glasses, leaving them to get stepped on!
But if you don't want to deal with contact lenses all night, glasses are the only alternative. Unless, of course, you have LASIK!
With LASIK, you don't have to worry about blocking your vision or losing your glasses. Not only will you be safer, but you'll be able to look even better in your costume. It's a win-win!
Worry-Free Makeup
A great alternative to masks is costume makeup. It can be easier to use makeup if you wear contact lenses, but it's easy to have issues with eye makeup.
Many costumes call for heavy eye makeup or outrageous false eyelashes. You should feel free to go all out on your outfit, but contact lenses and eye makeup don't always mix.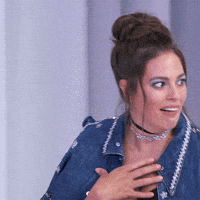 Why? Because it creates the possibility to get bacteria in your eyes. If you get makeup in them, it can get stuck under your lens.
Wearing contact lenses in general puts you at higher risk for eye infections. When you add foreign objects that get close to your eyes, it could spell trouble.
You may not get an eye infection, which is a good thing. But contacts can make all the Halloween costume accessories a big hassle.
False eyelashes could fall into your eye and force you to take out your contact and go half-blind for the night. In the best-case scenario, you're uncomfortable for the rest of the night.
Worst case, you end up injuring yourself. But with LASIK, you don't have to worry about losing a contact lens or getting eye infections from makeup. You can go all out and be safe at the same time.
Look Out for the Kids
Maybe you have kids, or perhaps you're just stationed at the door for the night handing out candy to trick-or-treaters. Either way, you should always be alert when it comes to child safety.
You may see a sketchy figure poking around, but a food allergy is a far more likely danger. LASIK doesn't just help you see without contacts or glasses.
It helps you see better than you could, even with contacts or glasses. That means colors will look brighter, and it'll be easy to spot the kinds of candies you need to avoid giving your child.
LASIK helps you avoid fumbling around in the dark after each house you visit going through candy. You can spot the danger right away.
And if you're someone who likes to go wild with Halloween decorations, you can have a better sense of how well-lit your yard is. This clear sight will help you see how to arrange decorations best, so no one trips or gets hurt stopping by your front door.
It's a simple thing, but it could end up saving someone from getting injured, or worse!
Be Ready to Run
Having LASIK is excellent if you find yourself in a zombie apocalypse situation. You can get up and go without worrying about bringing along spare contacts or glasses.
This Halloween probably won't be the takeover of the living dead. But you'll still be ready for a high-intensity haunted house or haunted hayride.
You can go and get scared out of your mind and not worry about tripping and breaking your glasses. With LASIK, you can have a horrifying Halloween and stay safe at the same time!
Have Your Best Halloween Ever
With LASIK, you'll be safer. And when you're safer, you can worry less and have more fun. You and your whole family can get the most out of the scariest season of the year!
Are you ready for the visual freedom LASIK provides? Schedule a LASIK consultation at Sugiki-Portis-Yim Eye Center in Honolulu, HI.
LASIK can help you stay safe and have more fun no matter what time of year it is. Don't put off visual freedom any longer!